You squeeze into your seat in the airliner, buckle up and then, against your best judgment, you start asking your seat mates what they paid for their airfare.
Skip to next paragraph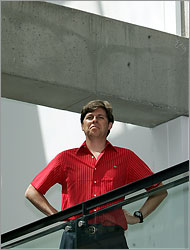 Kevin P. Casey for The New York Times
That's what Oren Etzioni did on a flight in 2002 and he discovered that, of course, others paid less for their tickets. Even worse, said Mr. Etzioni, a professor of computer science and engineering at the University of Washington, "they bought later than I did."
Mr. Etzioni, the brains behind such early Internet companies as MetaCrawler, a search engine, and Netbot, an online comparison shopping service, decided this was a situation computers could address. All he would need is a mountain of data to mine for information about seat supply and demand and an algorithm to predict how the airlines' algorithms were going to price those seats.
A brief student project proved that, indeed, computers could be far more reliable than a Magic 8-Ball. So Mr. Etzioni helped to create Farecast, an airfare search engine that also predicts how much the price of an airline ticket will rise or fall over the coming days (www.farecast.com).
The company was originally named Hamlet because its motto was "To buy or not to buy." That is the question, but the name was nevertheless a little obtuse for people on the Web rushing to look for cheap fares. The pun on "forecast" is a little subtle, but an easier association for travelers to make.
The company has attracted $8.5 million in venture capital, most recently from Greylock Partners, which has backed the college social networking site Facebook and the vote-on-the-news site Digg. It also received financing from the Madrona Venture Group, the Seattle concern that is staking Redfin, the online real estate broker; ShareBuilder, an automatic stock investing site; and PayScale, a site that gives consumers salary data.
Farecast could become a great tool for consumers because it uses much the same techniques that airline computers have used to extract the maximum amount of money from the flying public. It is the latest Web site to harness cheap computing power to hazard predictions on all sorts of everyday things and make the data available to consumers.
One such site introduced this year was Zillow.com, the real estate voyeur's guilty pleasure. It mines data in county land records to hazard a guess on the value of 65 million homes across the United States. The Seattle company says its "Zestimate" is within 10 percent of the selling price of a home, though many users have noted that the inaccuracy of the public records distorts the price estimates. Nevertheless, it is popular. In May, it had 2.4 million visitors, according to comScore, making it the ninth-most-visited real estate site.
Inrix, based in Kirkland, Wash., crunches data to predict traffic. It measures the speed of a half million commercial vehicles, like delivery vans and taxis, equipped with global positioning satellite receivers and also figures in information on weather and the scheduling of schools, factories and rock concerts.
Its Dust Network not only monitors the freeways, but the arterials and side streets as well, so that when a freeway is jammed and the arterial routes start backing up, the Inrix computers alert the driver to the least-busy alternative. The information for 15 cities is sold to Internet portals, cellphone carriers and in-car navigation systems. "It changes the way people think about traffic and navigation," said Bryan Mistele, the chief executive.
Farecast makes the same assertion for airline tickets. "This is Shopping 2.0," said Hugh Crean, Farecast's chief executive. It goes one step further than Web sites like Kayak (www.kayak.com), Sidestep (www.sidestep.com/air/) and Farechase (www.farechase.yahoo.com) from Yahoo that search the listings of the airlines and travel sites like Orbitz and then display the best deals.
A traveler picks the dates and destination of the trip just as he would at any other online airline travel site. (The Farecast site has flights only to and from Seattle and Boston, but promises to have all the major American cities by year-end.) Farecast generates a list of the scheduled flights, listing them from cheapest to most expensive.
What's different is that at the top of the screen is an arrow that points the direction Farecast's computer predicts fares are headed. Farecast even specifies how much it will change.
How do you know the computer is right? You won't know that until after you buy and neurotically check back to see what happened. The company said its success rate was 70 percent to 75 percent and that the fares would move within the range it predicted.
To get you to trust the site, the Farecast computer also tells you how confident it is of its prediction. "This is predictive technology — we won't achieve clairvoyance," Mr. Crean said. "We repredict and resimulate against our database to get better and better at what we are doing."